Product introduction
We released 3D modeling software "Metasequoia 4".
Metasequoia 4 provides two editions; Standard edition is suitable for beginners, and for professional of 3D modeling. EX edition is suitable for users using other 3DCG professional software or 3D printer.
Features of Metasequoia 4
Run on both Windows and macOS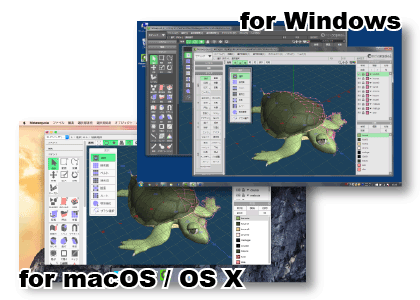 Metasequoia 4 is the 3DCG modeling software for Windows or macOS. You can use it in much the same way on different platforms.
(*Part of the function are different.)
All GUI components are displayed by vector drawings. Buttons and icons are displayed beautifully, in high resolution monitors (like as IGZO or Retina display).
Powerful modeling functions
Metasequoia has basic polygon editing functions. And it also has functions to assist in the finer processing.
The following features have been added and improved, in ver.4.0 or later.
Fill up a hole - It automatically fills in the holes on the surface.
Bridge - It creates a pipe-shaped polygon in between holes.
Bevel - creating a fillet surface (a rounded corner) is added
...etc.
N-gon (5 or more points in a face)

You can make a polygon with 5 or more points. And you can easily add edges (divide a face) or erase edges (merge faces).

Armature

By [Armature], you can create an object shape along the center line.

You can create an object by specifying only the center line and the line width. This feature will reduce the time to create the object.
And you can edit the generated object in more detail by modeling capabilities.
Bone and Morph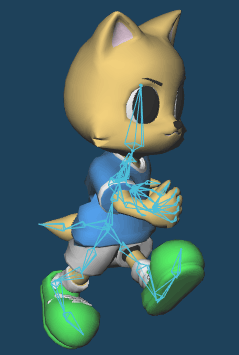 Setting the [Bone], the object can be linked to the deformation of bones.
And [Morph] is a function to slide the vertex. You can create such as facial expressions.
Bone and Morph settings can be exported to the corresponding file format, FBX or PMD.
Measure (Metasequoia 4 EX only)
You can measure the size of the object. This function is for business use or 3D printer output.
View Unit

You can display units such as millimeters or inches on the screen. And, it is possible to make the input of numerical value with the unit.

Measure a length, an angle and a thickness

You can measure the distance, angle, thickness of any position. Changes in the numerical values associated with the movement or deformation of the object are displayed immediately.
UV Edit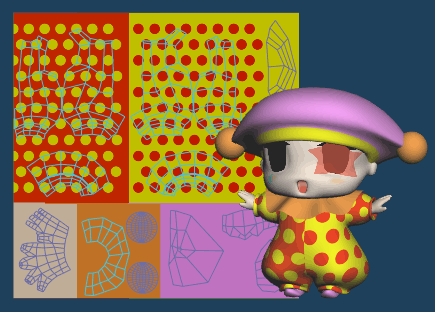 [UV edit] function is greatly improved.
New features; automatic unwrapping, and splitting or stitching, etc. are added. UV editing is more efficient.
OpenSubdiv

OpenSubdiv; a Pixar's subdivision surface; is now supported.
By setting the weights to the vertex or line, the edges of the object are generated. And, you get the texture whose distortion of UV is less.
If you export OpenSubdiv object to FBX file, you can transfer the shape data between compatible software.
Ambient occlusion (Metasequoia 4 EX only)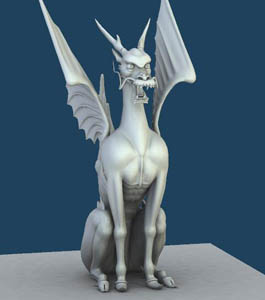 Ambient occlusion makes dark in the secluded part, and bright in the opening part. These results are exported to the vertex colors, and you can check the objects from any direction.
Path tracing rendering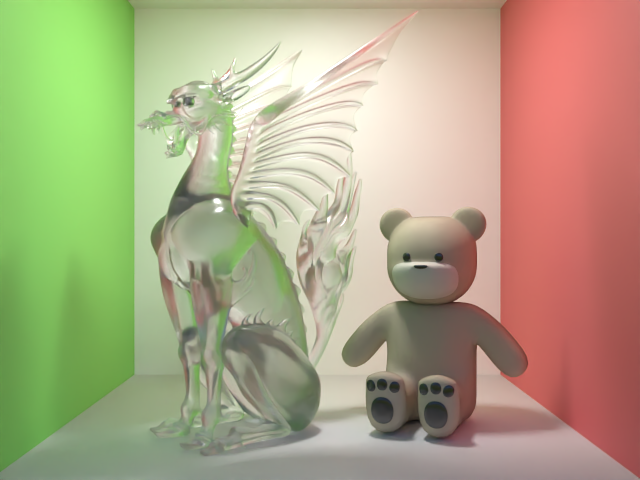 Physically-based rendering using the path tracing method is now included as a standard feature. It reproduces the mutual reflection of light between objects to create soft shadows.
Import / Export
Metasequoia supports several file formats of third-party 3DCG and 3DCAD software. You can pass files to each other with most of software.
When you import or export, Metasequoia will support the conversion of the coordinate axes, and reversing the surface direction, and specifying the magnification factor. It will resolve the differences of each software.
Import
Export

SUF (DoGA CGA)
DXF (AutoCAD)
LWO (LightWave3D)
3DS (3D Studio)
COB (trueSpace)
ROK (Rokkaku-Daioh)
OBJ (Wavefront)
FBX (Autodesk FBX) (*EX Only)
DAE (COLLADA 1.4/1.5) (*EX Only)
STL (Stereolithography)
PLY (Stanford Polygon Library) (*EX Only)
SVG (Scalable Vector Graphics) (*EX Only)
PMD (MikuMikuDance format)
3MF (3D Manufacturing Format) (*EX Only)
glTF (glTF 2.0)
VRM (VRM 1.0)

DXF (AutoCAD)
LWO (LightWave3D)
3DS (3D Studio)
X (Direct3D)
OBJ (Wavefront)
FBX (Autodesk FBX) (*EX Only)
DAE (COLLADA 1.4)
STL (Stereolithography)
PLY (Stanford Polygon Library) (*EX Only)
PMD (MikuMikuDance format)
3MF (3D Manufacturing Format) (*EX Only)
glTF (glTF 2.0 binary)
VRM (VRM 1.0)